Measurements & Analysis Machine
Fluorescent X-ray (XRF) Coating Thickness Gauge FT110A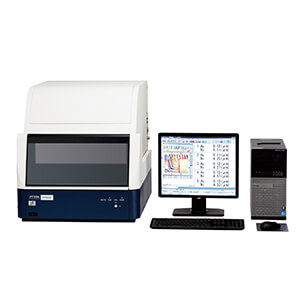 The FT110A XRF Coating Thickness Gauge has a new autofocus function which automatically focuses on the sample to acquire optical image within a few seconds. No manual adjustment is required, which results in higher throughput.
Features
Easy operation
Once a sample is placed on the stage, an optical image of the sample is automatically displayed.
Precisely measures 50 nm Au coating thickness in 10 seconds
Optimum geometry provides higher sensitivity even under a microbeam, enabling higher measurement accuracy with around 0.1 or 0.2 mm collimator.
Measurement without the standard sample
Measurement can be done without a thickness standard sample(s) by expanding the FP software. Measurement of multilayer film and alloy film can be performed easily.
Easy positioning using the Wide View System (option)
With the new Wide View System (option), the whole sample image can be observed (size max. 250×200 mm) and the desired measurement area can be specified.
High-Performance Fluorescent X-ray (XRF) Coating Thickness Gauge FT150 Serie
The FT150 is a high-end fluorescent X-ray coating thickness gauge equipped with the polycapillary X-ray focusing optics and Vortex® silicon drift detector. The improved X-ray detection efficiency enables high-throughput and high-precision measurement. Furthermore, new design to secure wide space around sample position gives excellent operability.
Features
High precision measurement at micro spots
The FT150, having a irradiation spot size of 30µm (FWHM:17µm), achieved a fluorescent X-ray intensity twice that of the conventional instrument, FT9500X. For typical application, measurement time to obtain same precision is reduced by half.
Product lineup for various applications
Select the instrument suitable for your samples.
F150: For measuring an ultra thin film and micro spots of electronic components.
F150L: For measuring a large printed circuit boards of 600mm x 600mm.
F150h: For simultaneous measurement Sn/Ni coating.
Safe and easy to use
The newly designed door with a wide opening let you set the sample very easily. The closed housing minimizes the risk of X-ray leakage.

Enhanced visibility of measurement spots
A large observation window and optimized parts arrangement improved visibility of the measurement position while the chamber door is closed.Clear sample image
The higher-resolution sample observation camera with a fully digital zoom provides the clear image of the sample having several tens of micrometers in diameter at a desired observation position. Lighting unit for sample observation uses LED which has an extremely long lifetime.New graphical user interfaces
Measurement methods and samples an application icon. Any image such as a sample picture and an illustration of the multilayer can be used for icon image. Measurement recipie can be selected quickly and easily.
Measurement Navi Window guides user through operation procedures.